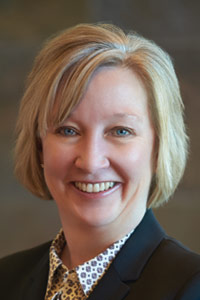 Ann Dudley Shannon
President
With three decades of non-profit work experience, Ann is a skillful manager who has a diverse background in foundation management and community development. Ann has guided the Dudley Foundation since its inception in 2000 and, in the process, distributed more than $4 milllion to nonprofits located in Wausau, Marathon County, and Wisconsin.

Realizing that collaboration creates an environment for solid foundation governance, Ann organized a group of 20-plus family foundations and charitable funders around a philanthropic educational purpose. That group, known as the Central Wisconsin Funders Alliance, explores innovations in grant making as well as keeping informed on regulations effecting philanthropy.

A former executive director of the Community Foundation of Central Wisconsin, Ann helped grow the asset base of that organization from $400,000 to $1.6 million. In 2012, Ann was the first recipient of the Women's Fund SPARK Philanthropy Award. The Women's Fund is designed to empower women philanthropists while funding programs that develop the full potential of women and children. Ann was instrumental in the development of the Women's Fund.

Ann is a former board member of United Way of Portage County, the Pacelli High School Education Foundation, and the Portage County Arts Alliance. She currently serves on the Women's Fund of Portage County Endowment Committee and is a partner with Dudley Investments LLC and Blackbirch Capital, LLC.

Ann lives in Stevens Point, Wisconsin, and is married to Judge Robert J. Shannon. They have two sons, Michael and Andrew.