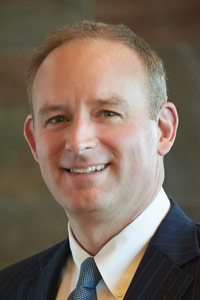 Chad Kane
Director
Chad Kane joined the Dudley Foundation board in 2013 and brings a wealth of financial and management expertise to its board of directors. Chad is the president of WoodTrust Bank and serves as a director of both WoodTrust Bank and WoodTrust Financial Corporation. WoodTrust, which offers a wide variety banking, trust, and investment solutions, services approximately $2.2 billion in client assets.
Raised in Madison, Wisconsin, Chad received his Bachelor of Science in Finance from Indiana University, where he also participated on the swim team. Today, he continues his interest in athletics by serving as president of the Woodson YMCA Foundation Board of Directors, which manages the assets needed to support the YMCA activities and programs. Additionally, Chad is a director of the Woodson YMCA Board and, for 13 years, was previously a director of the South Wood County YMCA Board.
Besides working with the Dudley Foundation, Chad is co-chairman of the 24-year-old WoodTrust-Bell Foundation which donates approximately $250,000 to central Wisconsin charities annually and, since its founding, has contributed more than $3.75 million to area nonprofit groups. He is also the board president and a director of the Charles and Joann Lester Foundation.
Chad lives in Wausau, Wisconsin, with his wife, Deborah, and their three children.