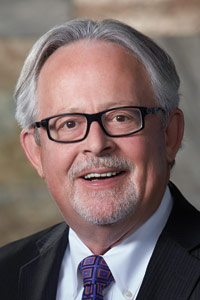 Gary Freels
Treasurer
Since 1995, Gary Freels has served as the president and chief executive offices of Alexander Properties, Inc. and the Judd S. Alexander Foundation. He received his Bachelor of Science degree in Finance from Western Michigan University and has spent 25 years as a senior officer in the banking industry in Michigan and Wisconsin.
Gary currently sits on the board of directors for Woodson YMCA Foundation. Gary has served as past president for the United Way of Marathon County, the Wausau Region Chamber of Commerce, and Aspirus Wausau Hospital. In addition, his board involvement has included the Wausau Paper Corporation, Central Wausau Progress, Children's Services Society of Wisconsin, Mount Senario College, the Northcentral Technical College Foundation, Wausau Area Housing Development, Wausau Country Club, and Wisconsin Foundation for Independent Colleges.
In his spare time, Gary enjoys spending time with his family. He is married to Gina and has four children: Jason (46), Amy (41), Ashley (22), and Cole (20) and a favorite grandson, Alex (21). The family resides in Mosinee, Wisconsin. Gary avidly supports the Green Bay Packers, the Detroit Red Wings and the Tigers, and enjoys golf, traveling, and boating.