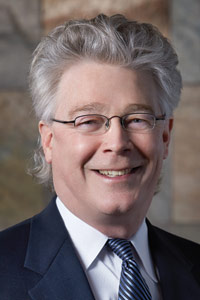 Paul C. Schlindwein II
Secretary
One of Paul's first assignments when he joined Ruder Ware, the prestigious law firm located in Wausau, Wisconsin, was to provide legal and business counsel to the late Richard D. Dudley, founder and principal donor of the Dudley Foundation.
As it turned out, it was a perfect partnership. For 26 years, Paul Schlindwein and Dick Dudley worked to develop and fund dozens of businesses—from Northern Wire to Wausau Benefits—that have employed more than 2,100 people in Central Wisconsin. Paul also handled the legal assignments for Dudley Communications, Dudley Broadcasting Management, and Adirondack Hydro Development Corporation. He is responsible for the development and the management of Dudley Tower, located in downtown Wausau.
Paul, who is of counsel with the Ruder Ware, is president and the managing partner of Dudley Investments, president of Wildcatters, LLC, and a partner in J.P. Ventures, LLC. Paul received his Bachelor of Business Administration in Finance and his law degree from the University of Wisconsin-Madison. His legal specialties include business transactions, corporate finance, and mergers and acquisitions.
Paul lives in Wausau with his wife, Susan Tiedemann, and their four children.